Jason Miles may not be a name that many are familiar with, but as a synth programmer and keyboardist he was one of the most in-demand session players of the past thirty years. Now he has released his latest album, Kind Of New, with trumpeter Ingrid Jensen.
Where do you begin an interview with a man who has played with, and on record for, the likes of Robert Flack, Aretha Franklin, Marcus Miller, Al Jarreau, George Benson, and the great Miles Davis? Well, you begin by showing him the new vinyl you've just purchased: Luther Vandross' Never Too Much: "Hello!" he exclaims, "Luther would be very happy you treated yourself for the cause, but he'd also be saying other stuff like "Why didn't you buy that? Why didn't you buy other albums of mine as well?""
Jason Miles has spent his career at the forefront of the contemporary jazz scene. In the late seventies he began experimenting with jazz-fusion, honing his craft as one of the industry's top synthesiser programmers. He developed a friendship and working relationship with bassist Marcus Miller, another trailblazer on the jazz-fusion scene, and the two would have a working relationship for over a decade, beginning with 1984's Miles Davis classic Tutu. He went on to work on Luther Vandross' Give Me The Reason, Any Love, and Power of Love; Michael Jackson's HIStory; Chaka Khan's Destiny; Jocelyn Brown's One For The Heart; Diana Ross' Red Hot Rhythm and Blues, and so many, many more.
Today, Miles is promoting his latest personal project, the delightful contemporary jazz album Kind of New. It's an album that has its roots firmly in Miles' association with Miles Davis:
"In 1988 I was up in Miles Davis' apartment where we used to hang, and I said to him "Miles, I listened to the bitches brew album last weekend, and man, oh my God, you had Herbie Hancock, Chick Chorea, Larry Young all playing Fender Rhodes man", I said "who is your favourite cat?" and he said to me "Keith Jarrett", and I said "Keith Jarrett, really?" And he goes: "Jason, that's a funky mother****er". I never associated Keith, I knew he played Rhodes on Live Evil because there was no documentation or anything."
It would be Jarrett's playing of the Fender Rhodes that inspired Miles the most, both back then and today. Upon the release of a six-CD collection of Miles Davis' The Cellar Door Sessions, on which Jarrett played, Miles spent six hours listening the box set in its entirety: "I put it on and Keith Jarrett was on fender Rhodes on at least six hours and it was blowing my mind." The release would play on Miles' mind for a while, and finally acted up his vision that, as he says, "I got what Miles was saying, it was so fresh and incredible to me and I said, there is a need for a small group, and this is like nine or ten years ago, there is a need for a small group that needs to come back like this."
The project finally began after Miles had heard his collaborator Ingrid Jensen performing at the Birdland in New York. Miles invited Jensen to sit in with his band the following night, and was impressed with her talent:
"She played with us and really killing it, and put it back in my mind that I should see if Ingrid's around for doing anything, and this was like 2010 and we did a few things in the studio which was kind of interesting. Then she got pregnant with her daughter, took a break, and then we booked a gig at a club near my house, the Falcon a cool little place. We put together a band, and this stuff was happening."
Miles says he went about the record "as the way Miles did with the Cellar Door. I started writing some new stuff, we heard tracks, wrote some together". Indeed, Kind of New consists of eleven new compositions as well as a version of Miles Davis' 'Sanctuary'. Yet, Miles is keen to stress that whilst Davis' inspiration can clearly be heard on Kind of New, the new album is not merely in tribute to the late trumpeter. In fact, Miles bluntly states that if he did a tribute album in honour of Davis, "Miles would be pissed off with it". Instead, he describes Kind of New as a homage to his mentor, rather than merely a replication of Miles post-Bitches Brew work: "My connection with Miles, and yet this not being a tribute or anything like that, just in the spirit… taking it to the next place. He wouldn't want me just going and playing some of his tunes."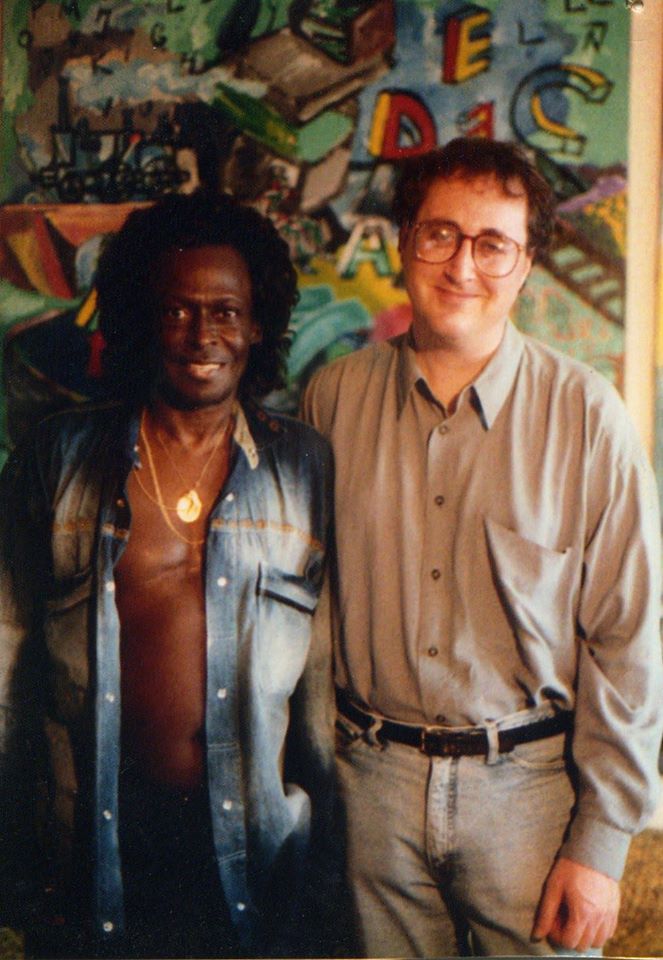 (Jason Miles with Miles Davis, taken from his Facebook page)
As a result, Kind of New mixes the inspiration of Davis and Jarrett with the contemporary jazz of today: the album is a stunning collaboration between Miles and Jensen, both veterans of the contemporary jazz scene. They are not, however, smooth jazz artists. In fact, Miles states that "Its an abomination to me". For Miles, it is not that he doesn't respect the musicians making smooth jazz in order to make money; it's about the lack of creativity of those making what can be considered 'smooth jazz':
"I have gone and really kept quiet about a lot of things, you know, because of my respect for musicians trying to make money and everything. But when, you know, I had no problem with Kenny G and the music he put out. It was just part of the mix, that's all. But then all of a sudden, that became the mix. Then they turned it into radio singles, and when they started doing that they sucked any life out of contemporary jazz. Even Grover had to change his shit. They were making everyone change to get played on the radio. It was sold as a lifestyle music, selling it to uptown people that like, for their next wine and cheese night. Then you get the artists who decided they were going to make singles… And when I heard that, I tried not to change. I tried to make music that was very contemporary and I never changed, people can never say that about me, its very contemporary, but the smooth jazz audience also liked what I was doing. It fit. They sold them on twenty core radio artists, they all sounded the same, the shows were all the same, and it was not allowed to grow. I was trying to do something with smooth jazz, bring a bit of international flavour. But no, they wanted urban grooves, the same chord changes and everything. And there were guys who went along with it, and that really pissed me off."
It's not the only thing that annoys Miles. In Europe Miles believes that fans are "more willing to respect the music and the accomplishments." On the other hand, in the United States, Miles states that "you need a Kardashian". I laughed, but Miles was adamant in his assessment: "I'm not joking around, it wasn't hyped. The music just isn't going to hype it, that's why when we played at the Bluenote we had all that shit". Indeed, that's partially why he's in London on a promotion tour, speaking with us, Jazz FM and others, before he heads off to the continent to promote Kind of New further. He truly believes in his talent and that this new record came out well: "The record worked out well, will the next phase work well: trying to get it played live, trying to get it over to Europe, because I feel this is where the market is for this type of music".
In fact, Miles appears very pleased with the results of Kind of New, and almost relaxed about whether or not it sells. He firmly believes that if the music is good enough, it will, however eventual, find its audience and its respect. As Miles says, Miles Davis "didn't give a shit about the critics. If I'm in the studio listening back and I'm smiling, I don't give a shit what you say… Unfortunately these days the critics seem to mean more." He also has harsh words for modern, digital producers who make music which he describes, quite accurately, as "wallpaper". He goes on: "it's bland as shit. You don't need to be someone mind-blowing artist any more. Look at Demi Levato, Selena Gomez, Justin Bieber."
But Miles isn't bothered about what the critics feel, what others do, or about those who may criticise him for his beliefs and opinions. On Kind of New Miles dedicates the rather aptly titled song 'Seeing Through The Rain' to the residents of the city of Ferguson, Missouri which has been rocked by unrest in the aftermath of a police shooting, whereby an unarmed black man was shot dead, with the police officer in question not being indicated by a grand jury. Miles says that he is from a generation that cared about their fellow citizens:
"We cared about human spirit, social issues, stuff like that. We don't care know. What's the story here? Where are the artists that stand up for the injustices in the world? I wanted continue my tradition of talking about how I feel on social issues and social consciousness."
This leads us onto the current state of American society. I ask him whether he thinks things are better today than earlier on in his life. He flippantly replies "we've all got iPhones, more movie theatres, lot of good restaurants", before concluding that things have got worse: "But what don't we have now? We have people who are dishonest, we have racial divide. We have a presidential candidate who wants to put freaking stickers on Muslims. It's dark."
Inevitably, that leads us to discuss the presidential candidacy of one Donald J. Trump, who is, after several seemingly self-destroying remarks (including, but not limited, attacking war veteran John McCain's war record, calling Mexicans thieves and rapists, and claiming Fox News' Megyn Kelly had "blood coming out of her wherever" during the first GOP debate) still rising in the polls. Miles argues that Trump is "pushing the buttons of the lowest common denominator, only without realising one thing that last time I looked Mitt Romney lost the election in 2012. Why? Only white people voted for him. How are you going to win the election if only white people are voting for you? White people that are angry." He's not convinced on the other side, either, arguing that while Hillary is "right on the money" on domestic and social issues, her foreign policy is too hawkish. He concludes that overall the Democrats "need to find a place for Bernie Saunders", but he doesn't seem to have much hope for that.
After this rather political aside, we get back to music, and I ask him about his career a little more. As a big fan of Luther Vandross, I ask about his time working with the man: "it was beautiful, it was creative. It was difficult at times emotionally, very hard working at times. But in the end always very satisfying." He also dropped some revealing habits about Vandross that only someone close to the man would know. For instance, according to Miles, Vandross had to have his creature comforts with him in the studio: "his TV, his soap operas, and professional wrestling". Luther Vandross, one of the greatest singers of any generation and a legend of romance, enjoyed wrestling?
"He was the biggest wrestling fan in the world. Luther was very like, you know, he had two kinds of tastes: he had the taste of somebody who absolutely had the finest things in life, and knew what they were and the value of them, and then there was like Popeye's Fried Chicken and you know, chicken and waffles, and professional wrestling. There was no middle ground with Luther: he was up here or down there."
But for Miles, Vandross' music is what really counts: "The music is what he was, especially the ballads, some of the deeper compositions were very, very personal. And the ballads were always so difficult to work on because they were his bread and butter."
(Luther Vandross' Give Me The Reason album was the first that Miles appeared on.)
I also bring up his work with Grover Washington, introduced to him (as was Vandross and Davis) by bassist Marcus Miller. In fact, Miles is working on a new To Grover, With Love album, recorded live in Japan with a band including Miles himself, along with Ralph MacDonald, that is due for release next March. It's clear that Washington's had a great influence on Miles, who only spoke of him in glowing terms: "he really was a beautiful guy, his sound was so important in the seventies and eighties I felt because that was the real music of New York and the clubs, the contemporary jazz sound of New York."
Miles also revealed being intimidated, or at least that's what the plan was, by Michael Jackson's team during the making of HIStory. According to Miles, he had been contacted to come into the studio for some synth work on the same day he had previously arranged to work with a singer coming all the way from Switzerland to work on another project. Miles politely refused the offer, and Michael Jackson's team wouldn't have it:
"They wanted me in that same night, and I said I can't. They were like 'But it's Michael Jackson!' I said it was fine, but I had to keep my principles. So they got someone else in, a good guy, but I knew he couldn't do it. So the next morning, they phoned asking if I was available. I thought of a different way on how to play the part. I have a ten million-seller disc on my house. It's a good record is History. His last good record actually".
Finally, we talk briefly about his relationship with Marcus Miller. While many people talk of Miller's relationship with Luther Vandross and Miles Davis, few rarely look into his relationship with Miles, despite the two working consistently together over a decade period. Today, Miller has a new album out, and has recently finished a tour promoting it. Miles is pleased for Miller, and categorically denies that the two fell out, or that he is jealous of Miller's fame. Rather, he claims, it's a case of logistics and time moving on: "We don't see each other that much. Nothing bad, at all, he's in California and on the road all the time. I'm not envious or jealous; we had an amazing little thing that kept a solid friendship. And it will be like that forever."
While Miles is comfortable and even happy to discuss it, he himself spends little time reflecting on his incredible accomplishments working with many of the greats. Does he reflect on this much? "No. I say the moment happened, and be thankful that is was. And don't worry about what is coming or what happened." So I ask him what's next for him. While he has been in London he's been recording with singer Beverly Beirne ("I got to tell you, she is knocking me out"), and is looking to come back to the UK next year along with Jensen and a band to perform songs from Kind of New. It's clear that Miles isn't done with music yet, and it seems that he never will be. And for us fans of jazz and soul, we should be thankful for that.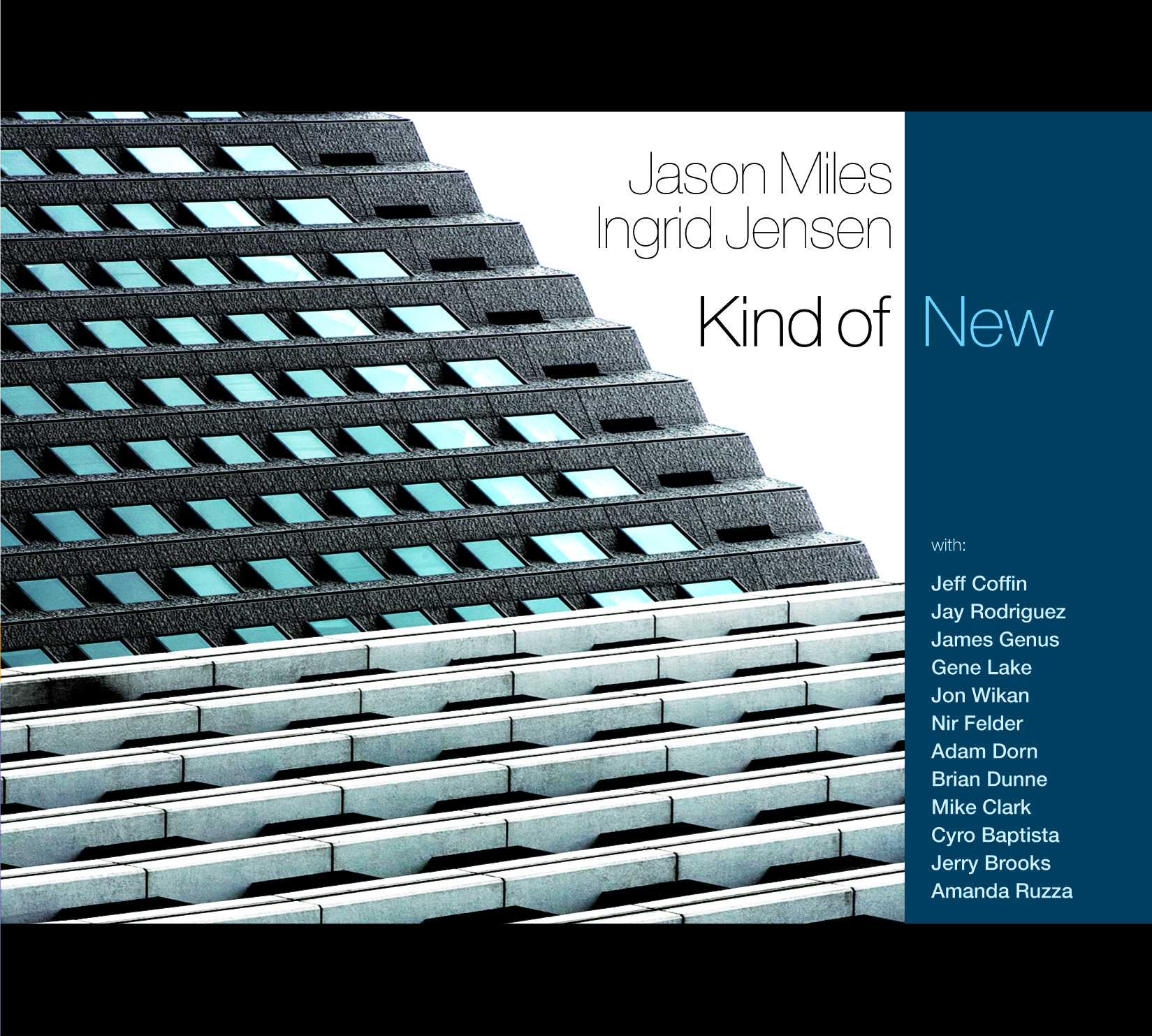 Jason Miles and Ingrid Jensens' Kind of New is out now, available on iTunes and Amazon, and from Miles' website, along with vinyl copies.