It's been nearly a decade since the Godfather of Soul James Brown passed away on Christmas Day but his music lives on, continuing to inspire and excite today.
To say that James Brown changed popular music is not an overstatement; he changed how musicians created music, and how it was performed. Born into abject poverty in South Carolina, Brown's upbringing was far from idyllic: his mother, just sixteen at the time of his birth, left him with his father. His father scrapped a living, and often relied on his sisters' brothels for accommodation and money. Music was a way for the young Brown to earn a little cash, singing for pennies on street corners, taking inspiration from performer Louis Jordon who had released a song called 'Caldonia'.
Then at the age of sixteen, Brown was convicted of robbery and sent to a juvenile detention centre in Georgia; but it was here that Brown's love of music began to develop, aided by the meeting of another young man by the name of Bobby Byrd. Although stories differ on how Brown was given parole, the story that is most frequently told is that Byrd persuaded his family to allow Brown to stay, giving him the permanent residence needed to secure release. Either way, Brown found himself an unskilled job, and sang with Byrd in a gospel group in the Toccoa, Georgia area. Singing gospel, however, would soon be replaced by gritty R&B and rock, with their gospel group morphing into the first incarnation of The Flames, with Brown and Byrd sharing lead singing duties at the time.
It would take a further two years of performing across the South before The Flames would have their first hit, the million-seller 'Please, Please, Please'. The song combined the elements of gospel Brown and Byrd had performed earlier, with the emerging R&B of the day. They followed this single release with 'Try Me', a beautiful ballad that further propelled Brown as the The Flames' front man. Brown and The Flames honed their live performances, becoming The Famous Flames as a result, which would become part of the James Brown Revue.
Despite their success on stage, and Brown's new monitor as 'The Hardest Working Man in Show-Business' their record company, King Records, was sceptical that a black audience would buy Brown's records in bulk, and in 1962 famously refused to stump up the cash for a live album to be recorded at the famous Apollo Theatre in New York City. Brown paid for the album himself, with the resulting album Live At The Apollo sold over a million copies and has become a classic soul album.
Due to the success of Live At The Apollo King records renegotiated their deal with Brown which resulted in the star gaining complete artistic control over his output. Fractions within the Famous Flames had already begun, however, and frustrations over working conditions and pay would resurface throughout Brown's career. But Brown plastered over these cracks with what is arguably one of the first funk songs recorded, the brilliant 'Papa's Got A Brand New Bag'. The song changed the typical chord and verse structure, shifting the sound onto what became known as "the One". This funky formula proved to be irresistible to black America, which in return made him 'Soul Brother Number One' and eventually the 'Godfather of Soul'.
By the end of the sixties Brown's band personnel had changed, but backed by stellar musicians such as Pee Wee Ellis, Fred Wesley, Maceo Parker, and Bobby Byrd, Brown struck gold with hits such as 'It's A Man's Man's Man's Word', 'I Got The Feelin'', and 'I Got You (I Feel Good)'. He also became a symbol for black improvement and black empowerment, with the powerful song 'Say It Loud (I'm Black and I'm Proud)'. He used his wealth to sponsor black businesses, encouraged black children to stay in school (Brown himself being a dropout), and famously pleaded for calm after the assassination of Martin Luther King, performing a televised concert in Boston widely credited to keeping the peace.
Again, tensions grew within Brown's band. Undeterred, Brown had Bobby Byrd bring in a new band, the JBs, which for a year included the incredible talents of William "Bootsy" Collins and Phelps "Catfish" Collins, gave Brown a new sound. Yet, by the mid-seventies Brown's star was fading rapidly, forcing him to sell several business interests, and his famed private jet. Even the loyal Bobby Byrd had left, angered by Brown's treatment of him (potentially the result of the success of 'Sex Machine' which despite being released as a solo single, is actually a duet between the two).
(Photo by Evening Standard/Getty Images)
Disco music was partially to blame for Brown's decline, with discos and DJs playing tunes with 'four-to-the-floor' beats for hours on end, replacing shows with live bands. Other artists, most notably George Clinton and his P-Funk outfits (which for a time included the Collins brothers, plus Parker and Wesley) took Brown's funk and transformed it further. This period is summed up by the tune 'The Original Disco Man'. Brown clearly was the original disco man, but by now Brown was following musical trends, rather than creating them. As a social leader Brown was becoming less relevant, beginning after his rather peculiar support of Richard Nixon's re-election in 1972.
(The President meets Soul Brother Number One)
Regardless, Brown maintained his reputation as the one of the world's top performers – keeping together a version of the JBs (or sometimes known as the 'Soul Generals') – and continuing to perform around the world. His performances combined the incredible sound of a full band and full horn section with his gritty, soulful vocals, not forgetting his incredible dance moves, cemented him as a truly great performer. His performances were introduced to a new, younger, and somewhat whiter, generation in 1980 when he appeared alongside John Belushi and Dan Aykroyd in The Blues Brothers, and was buoyed by some decent single releases. By the mid-eighties Brown found his music being sampled by the emerging rap and hip-hop culture, introducing himself further to a new, younger audience. He also appeared in the Rocky IV film, performing the song 'Livin' in America' by Dan Hartman, which won him a Grammy Award in 1987.
Yet the Brown comeback would, for a time, be short-lived. His fourth wife reported beatings to the police and Brown was charged for assault with intent to murder, among other charges. He avoided jail, but was sent to prison after he allegedly threatened a group of people with a shotgun that ended in a car chase. Brown got a six year sentence, but was released after two years and returned straight to work, recording, performing and re-releasing his back catalogue. He would go on to perform at Glastonbury, Woodstock '99, Live 8, and more.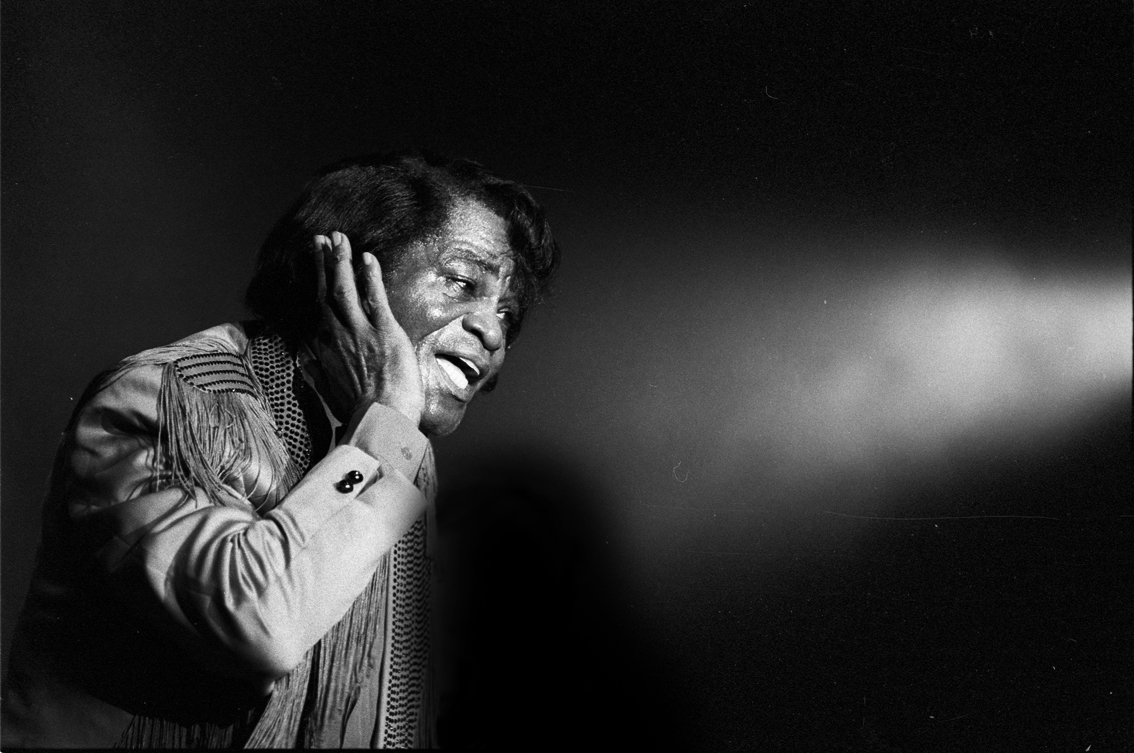 (Photo: William Ellis)
In 2006 he announced his 'Seven Decades of Funk World Tour', and the shows received largely positive feedback. Brown performed a one off show at The Roundhouse in London as part of the BBC Electric Proms in October, backed by his full band. In December, however, Brown's health began to fail. He checked into a hospital on the 24th, cancelling some of his early 2007 tour dates, but expected to reschedule them soon after. Yet, Brown was kept in hospital and his conditioned worsened. It was announced on Christmas Day that Brown had passed away at the age of 73 from heart failure; resulting from complications of pneumonia he developed after the European stint of his tour. According to friend and manager Charles Bobbit, who was there at Brown's bedside, the Godfather of Soul whispered, "I'm going away tonight", and fell asleep, never to awake.
For all that James Brown packed into his life – the music, the performances, the women, and the drugs – he remains a source of inspiration and enjoyment for millions the world over. His influence remains as important as ever. In his memory we've chosen some of our favourites and some excellent performances for you to enjoy.
It's time to get on up.
The TAMI Show
1964's TAMI Show (aka. Teenage Awards Music International, or Teen Age Music International) was the televised popular music event of the year, possibly even the decade. The show featured a whole roster of rock and pop artists, including The Rolling Stones, The Beach Boys, Chuck Berry, The Supremes, Marvin Gaye and The Miracles. Brown and The Famous Flames were set to appear, and were given the spot just before The Rolling Stones. Quite simply, Brown and the Famous Flames tore the house down. His performance was so brilliant that Mick Jagger of the Stones has repeatedly asserted that their choice to go on after Brown was one of the worst of his career. Musically the Flames were fantastic, but it was Brown's performance that was truly memorable, and gave the young Jagger a few lessons in stagecraft. Are we saying that Jagger stole his routine from Brown? No, but we are insinuating it.
Doing It To Death – Fred Wesley & The J.B's
Technically this is a release from trombonist Fred Wesley and Brown's then-backing band The JBs, but Brown is all over the record. He even sings the lead, acting as a band leader in rehearsal, urging Wesley to "take it higher" throughout. It's a brilliant piece of early funk, truly a master class for future generations of funksters. The guitar lick is just sublime, the bass line is just too funky, and Wesley's trombone is stunning. Put it on and you're sure to have a funky good time.
Live in Boston, April 5th 1968
In the wake of the assassination of Martin Luther King Jr., Boston city officials feared that growing violence around the nation would spread to the North-East, and plans were being prepared to deal with any rioting that might develop. Similar plans were being drawn up and implemented across the nation; but Boston remained quiet. James Brown, through a televised programme of his energetic performance at the Boston Garden, helped keep the peace in the City. Boston's Mayor was given two options: cancel Brown's longstanding engagement, but anger the black population, or allow the concert to continue, and stoke fear that a riot would occur. A young black councilman named Tom Atkins proposed to broadcast the concert for free in the hope to keep people at home and off the streets.
Now, although Brown did much for black business and charity, he claimed that if the concert were televised for free, he would lose $60,000. The Mayor decided that it was worth the fee, and the gamble paid off: Boston had no rioting, and even less crime occurred that night in April than on an ordinary night. The concert has gone down in history, and you can watch it below.
Get Up, Get Into It, Get Involved
Now this one is truly a thing of funk beauty. Following on from the call-and-response of 'Sex Machine', Brown and Bobby Byrd employed the technique to full effect here. Everything about this song is ace: the horns, the guitar, Brown's screeching vocals, and Byrd's superlative backing. The single was released in 1970 as a two-part single, and if you want to hear a stunning live version then check out the recently released version live in 1971 at the Apollo.
Soul Power
This tune marked the dawn of a new era for Brown as the song featured the original line-up of the JBs who replaced the Famous Flames, including Bootsy and Catfish Collins, as well as Fred Wesley. It's a song that's funky and gritty, and a song that spoke to the African-American community that they did indeed have power, and that they could use it.
Hot Pants (She Got To Use What She Got To Get What She Wants)
Released in 1971, we've chosen this song mainly because it has to be one of the most imaginative title's that the Godfather ever came up with. It's another collaboration between Brown and Wesley, and originally was released in three parts. The song also marks the final release Brown would make on King Records before departing to music conglomerate Polydor. The song would also be re-recorded on the album Hot Pants a few years later, but the original version is better.
Live in Zaire, 1974
In 1974 Muhammed Ali was set to take on George Foreman in the 'Rumble in the Jungle', a fight which has gone down in boxing history. Part of the build up was a a live concert, Zaire 74, which featured performances from The Spinners, B.B King, Bill Withers, and of course, Soul Brother Number One, James Brown. Dressed in a shirt embroidered with 'GFOS' (Godfather of Soul) on, Brown delivered yet another knock-out performance to the African crowd. The performance was captured on film, and finally released as part of the brilliant Soul Power documentary released in 2008.
Get Up Offa That Thing
Now this is a personal favourite of ours here at TFSR. Released in 1976 as a two-part single, it marked the return of Brown to the R&B Charts and would be his biggest hit of the late seventies. Although Brown would eventually embrace disco himself, the lyrics take aim at his successors in funk and disco, such as Barry White, the Ohio Players and KC and the Sunshine Band. The lyric, it has to be said, is pretty simple. In fact, it's about three lines or so, with Brown ad-libbing the rest. But it's such a fantastic song it really doesn't matter about the lyrical content; it's just so funky, and so very irresistible. It's almost impossible not to get up off of that thing.
For Goodness Sakes, Give Me Those Cakes
We like James Brown. We also like cake. So it was inevitable that we'd like this eleven-minute jam from the Godfather. Released on the 1978 album of the same title, the song isn't actually making reference to the delicious treat, but rather the behind of an awfully attractive woman. Not one for the feminists clearly, but then what of James Brown's back catalogue is?
It's Too Funky In Here
In an attempt to stay relevant to the record buying audience, Brown embraced elements of disco into his brand of funk. It was released in May 1979 and was hailed as his 'comeback' with the song reaching #15 on the R&B Charts. It featured on the album The Original Disco Man which Rolling Stone critic Robert Christgau called the 'disco disc of the year'. We're not so sure: Chic did release 'Good Times' the same year, after all. Petty quarrels aside, this song is pretty funky. But if you want to hear a really funky version of the tune, check out the far superior live version on the Hot On The One! live album recorded in Tokyo. Now that really is too funky.
Bring It On, Bring It On
Now this is a real rarity; and it's an absolute belter. Released as a single in 1983 it failed to make a dent in the States, but in the UK it was a minor hit for Brown, reaching #45 on the Singles Chart. The song sees Brown abandon the disco he embraced in the late seventies, re-embracing the funk on record, sounding effectively what he was like with his band on stage. Sure, it's not one of his finest, but it's pretty decent nonetheless.
Rapp Payback
This song is actually a reworking of Brown's 1974 song 'The Payback', but given a more disco finish. It was released in 1980 and charted at #46 in the US R&B Charts, and is actually really enjoyable. There is a thirteen-minute version out there, and well, if you have the time, go on and treat yourself.
Michael Jackson vs. James Brown
It's no secret that without James Brown, there would have been no Michael Jackson. Well, at least there would have been a Michael Jackson, and maybe if he had been a singer, he sure wouldn't have been such a great performer as well. It was Brown who really inspired Jackson to become a brilliant performer, studying the moves of the master and interpreting them in his own manner. This clip shows Brown beckon the newly crowned King of Pop on stage with him to perform a little for the crowd, and its interesting to see how at ease Brown is giving up the limelight, albeit briefly, for Jackson to have a quick dance. Sure, no doubt having MJ turn up at your gig that is being taped is helpful, but it seems watching the two that Brown is quite humbled that he inspired Michael Jackson.
House of Blues, 1999
By the new millennium Brown was beginning to show his age, but, ever the professional, the Hardest Working Man in Show-Business lived up to his moniker and continued on, performing around the world with his enormous ensemble. One such date was recorded in 1999 at the House of Blues. As ever, Brown's backing band is stunning, and even though Brown is slightly less mobile and less nimble on his feet, he is in good spirits and puts on a decent performance. It's worth checking out to see James Brown's personal MC Danny Ray introduce the man himself. That man had the perfect job alright.