What is there left to say about the greatest seventies soul band? We're not sure, but we have written what is effectively a love note to the mightiest elements of the universe: Earth, Wind & Fire.
The news that Maurice White, founder of the one of the greatest musical outfits of all time, passed away last week hit us hard. White's musical genius has up to know been largely ignored in the mainstream, the likely result of his decision to quit appearing live with the band in the mid-nineties as his diagnosis of Parkinson's disease reduced his ability to perform on stage. Yet his influence on popular music is enormous. Earth, Wind & Fire's unique brand of soul-funk continues to inspire some forty years after it was first developed, their music remains both commercially and critically successful, and their live performances changed how artists took to the stage. We are quick to praise an artist after his or her death but we rarely celebrate them when they're still here with us. And with that we want to celebrate the brilliance and sheer joy of Earth, Wind & Fire with you.
Maurice White was born in Memphis, Tennessee, the one-time musical capital of the world. He lived with his grandmother and like so many artists in the genre, was exposed to the emerging R&B sounds of the era. Along with his childhood friend Booker T. Jones (who would go on to form Booker T & The MGs and become one of the architects of the Stax sound) he began performing locally, but his break came when he moved to Chicago where he became a session drummer for the mighty Chess Records – famously he played drums on Fontella Bass' smash hit 'Rescue Me'.
In 1966 he joined the Ramsey Lewis Trio as a drummer and cut his teeth as a serious jazz musician with Lewis until 1969 when he formed a small group in Los Angeles. White soon called this outfit Earth, Wind & Fire – based on his astrological sign's element of Fire and seasonal qualities of Earth and Air. White had a ten-man line-up when they released their self-titled debut in 1971 plus the follow up album The Need of Love. Yet whilst critics were impressed with this new outfit the group still had yet to have a commercial smash. In 1972 White brought in his brother Verdine White on bass, Philip Bailey on vocals and percussion, Roland Bautista on guitar, keyboardist Larry Dunn and percussionist Ralph Johnson.
A year later this classic line-up of the group (along with new guitarist Al McKay) released the brilliant Head To The Sky album that featured the singles 'Evil' and 'Keep Your Head To The Sky'. White had found Earth, Wind & Fire's groove and it worked and people were drawn to this exciting new sound. They incorporated soul with funk with jazz with African rhythms (with the famous Kalimba) with a little rock sprinkled in as well. Their vocal harmony was unrivalled by their contemporaries – they were the funk world's answer to The Beach Boys. Philip Baily's soaring falsetto is truly one of the wonders of the musical world, giving the group two great lead singers with Maurice White and Bailey trading leads.
In 1975 the group released one of their masterpieces with That's The Way Of The World that proved to be their breakthrough album. It featured not only the epic title track but the ever-funky 'Shining Star'. The group then added a permanent horn section, the Phenix Horns led by the saxophonist Don Myrick. The new horns were worked to full effect with the 'Sing A Song' and 'Can't Hide Love' follow-ups, and would remain an integral feature in the Earth, Wind & Fire sound.
In 1977 they released the All 'N All album that cemented their reputation as a truly great band. The album featured the soul-funk classic 'Fantasy' with Bailey singing the finest lead of his career. They went on to take The Beatle's 'Got To Get You Into My Life' and give it a funk makeover in the only way they could, and won a Grammy Award for their efforts. A year later the group would release probably their best-known hit: 'September'. The song has become an anthem the world around, with each successive generation has appropriated it for their enjoyment.
In 1979 they released the epic I Am album that led with the mock-disco tune 'Boogie Wonderland'. The song may have had a disco beat, but everything was classic Earth, Wind & Fire. They also recorded on that album the David Forster composition 'After The Love Has Gone' one the most poignant songs the group has ever recorded.
Yet with the demise of disco came a slow-down in the hits for the group. In the eighties they took a sabbatical and members briefly did their own thing: Al Mckay and Ralph Johnson produced The Temptations' 'Treat Her Like A Lady', Philip Bailey sang 'Easy Lover' with Phil Collins, and Maurice White recorded a solo album and worked with numerous artists including Barbara Streisand. They reunited in the late eighties although by this point the line-up had changed, but the core of the White brothers, Philip Bailey and Ralph Johnson continued to record and perform.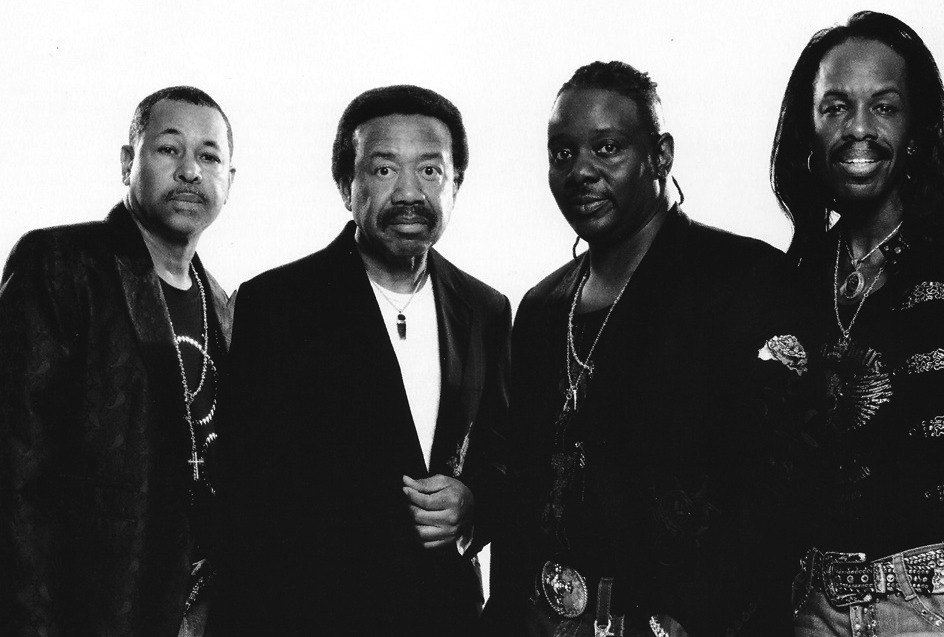 (The core: Ralph Johnson, Maurice White, Philip Bailey and Verdine White)
In 1994 Maurice White decided to stop touring: he had been suffering from Parkinson's disease for a number of years but could no longer continuing the groups rigorous touring schedule and performing routines. He continued to be involved with new music for the group, including their albums The Promise and Illumination released in the new millennium. In 2013 the group released Now, Then & Forever which saw the group return to their classic sound after some prior experimenting with new sounds on earlier recordings. The group remain a hot touring act and recently completed a monumental American tour with fellow funksters Chicago, and are set to continue touring this year including some UK dates.
(The remaining originals: Verdine White, Philip Bailey and Ralph Johnson)
Defining the Earth, Wind & Fire sound is quite tricky: it's neither purely funk nor purely soul nor purely disco. Their body of work straddles these genres, plus heavy elements of jazz, rock and later on electronica. Whilst disco groups struggled after 1979 and the 'Disco Sucks' backlash, Earth, Wind & Fire continued in their groove and defied conventional wisdom that disco died an unpleasant death, scoring big with 'Let's Groove' in 1981. It was disco, but then again it wasn't purely disco; what it was of course is pure joy. That is the delight of Earth, Wind & Fire: they are not just another soul group, they are pioneers in the field, and continue that legacy today. Indeed, that is the legacy of Maurice White and his band of funky men. In their honour we pick some of our favourite Earth, Wind & Fire performances.
Fantasy Live
How Philip Bailey sings so high is clearly one of the unexplained mysteries of the world. His signature song 'Fantasy' first appeared on the 1977 album All 'n All. Quite simply, it's a stunning song: the horns, the bass, and the vocals – its all classic Earth, Wind & Fire. What is equally amazing is how well the group recreated their sound on stage away from the relative security of the studio. Bailey live is, as those of us who have seen him can attest, one of the best things you'll here – and today he's still as brilliant. In this performance he is absolutely stunning, reaching vocal highs that probably drove the local dogs in the area crazy.
Devotion
One of the group's earlier hits, this is a particularly beautiful song that fuses romantic R&B with Christian messages of love. It's a vocally stunning song, reminding us that although the group were incredibly funky, they had some serious singers in the midst and the harmonies they achieved are mind-blowing.
Getaway
This is Earth, Wind & Fire at their most powerful and their most frantic. It's a perfect combination of great song writing, producing and performance. The harmonies are beautiful, the horns are blistering, and the song is catchy. What more could you ever want?
Let Your Feelings Show
A quasi-rarity in the Earth, Wind & Fire catalogue; taken from the tasty I Am album, which spawned the hits 'Boogie Wonderland' and 'After The Love Has Gone, it rounds out one of their best albums. Again, it has that classic sound: punchy horns, thumping bass, and incredibly tight vocals. It's a catchy tune and one that fans need to re-discover.
Boogie Wonderland Live
What can you say about this? A classic, performed superbly in concert. Earth, Wind & Fire versatility extended outside of the studio and onto the stage, a mark of the brilliance of the men that Maurice White assembled.
I've Had Enough
This song is a particular favourite of ours. Taken from the Raise! album which featured that their last major hit 'Let's Groove' in 1981. Although conventional wisdom states that disco died a brutal and immediate death, the reality is that disco went back underground, and those acts that remained in the public re-packaged their sound. Now, although Earth, Wind & Fire were not a disco band they did incorporate elements of it and were tainted with the disco brush; but as Raise! shows the group still had hits in them, and still could make great music.
Fall In Love With Me
By 1983 the group was split over the direction of their sound: as the eighties moved on live musicianship went out of favour. The White brothers along with Philip Bailey were keen to embrace new music technology, but others like Larry Dunn and Al McKay were less impressed by the sound of the eighties. Their 1983 album Powerlight sees them retain their sound but also embrace more synthesised sounds; its another solid album, but the material isn't as memorable as some of their earlier pieces. The album is notably however for the lead single: 'Fall In Love With Me'. Its pretty stunning actually, and its well worth listening to for a blistering guitar solo
Love's Dance
In 2005 Maurice White took the group back into the studio to record their 19th studio album Illumination, and overall the results were pretty good. Yet like so many other older artists, they tried to use the new generation of musicians to update their sound. Sometimes it worked on Illumination (see the duet with Raphael Saadiq), sometimes it didn't (see the duet with Will.I.Am). Yet this song is actually really good, sounding like an updated classic.
My Promise
This was the lead single of the groups' 2013 album Now, Then & Forever – the first that did not feature Maurice White in any capacity. Yet the album had his blessing, and its pretty good. It finds them treading the line between their classic sound and new sounds in dance music; largely it works. 'My Promise' is arguably the best song on the album, sounding perfectly like a classic from their heyday.
Be Ever Wonderful
One of the songs we've rediscovered in the wake of Maurice White's passing, 'Be Ever Wonderful' is a sheer delight to listen to. It's positive message is pure Maurice. The horn arrangement is fantastic; the vocals are made in harmonic heaven. It's such a brilliant tune, and a fine tribute to the man who created this iconic and pioneering group.