Fresh after winning her second Grammy, veteran soul singer Mavis Staples is back with another excellent album on Anti Records that sees her return to her civil rights activism of the sixties.
She may never have had the commercial success of some of her female contemporaries, but Mavis Staples is one of the greatest soul singers ever to have graced the planet. One reason why she may never have become a household name like Aretha, Diana or Gladys is that while others have been singing about falling in love, Staples (along with her father and siblings as The Staple Singers) has sung about spreading love to all mankind, regardless of race, creed or colour. What Martin Luther King Jr spoke about – freedom, justice and equality – Staples sang about. On her latest release Livin' On A High Note she continues to do just that.
The album follows on from two outstanding releases produced by Jeff Tweedy of Wilco, who crafted Staples' recent renaissance with the brilliant You Are Not Alone and One True Vine. Taking on the momentous task of producing Staples this time round is M. Ward, one half of She & Him (the other half being Zooey Deschanel), and by and large he continues the winning formula that Tweedy implemented on Staples' past albums. This time around though Staples has consciously tried to make Livin' On A High Note more positive and uplifting than her previous two releases, and has sought the talents of a crop of new artists and writers to help her do just that.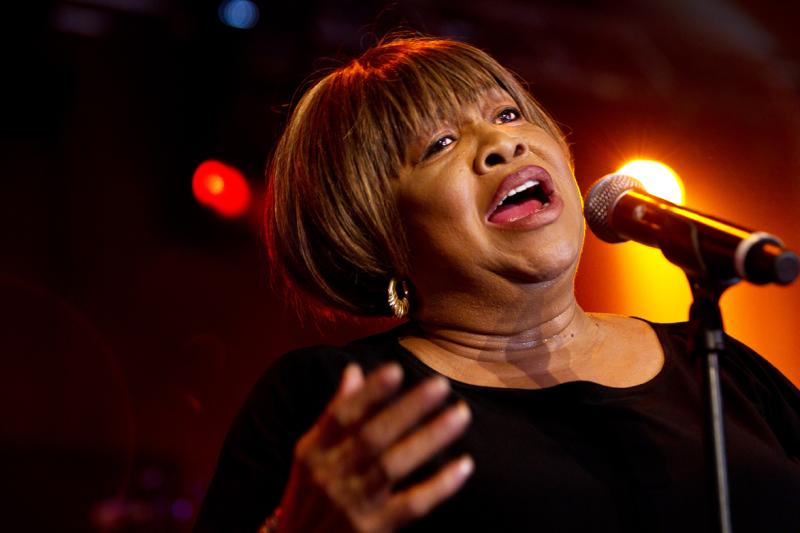 Staples opens her new album with the blues-rock number 'Take Me Back' written by Benjamin Booker, which is in effect a three-minute autobiographical song that tells the story of Staples' life: it was hard, but she's always had people who love her, above all her father, Pops. It's followed in a similar vein by the Ben Harper composition 'Love and Trust', a clever song lyrically that Staples delivers with her trademark vocal intensity. Indeed, the musical positivity continues with the Aloe Blacc written 'Tomorrow', which Staples delivers with fiery passion, and features some Stax-esque horns, plus a solo from none other than Trombone Shorty.
The first single, 'High Note', is one of the best songs on this strong release, with Staples's emotional plea to the listener to live positively proving to be a poignant moment on the album. Valerie June, who wrote the song, features vocally on the song, with her sultry voice complimenting the more gritty Staples rather well. M. Ward also offers some positive vibrations on the song 'Don't Cry', which is produced superbly, complete with another tasty horn arrangement.
Livin' On A High Note also hits on the state of the civil rights movement today in America. 'History, Now', which features her backing singer Donny Gerrard, poses listeners to understand history in order for us to understand the present, and how we should go forward. Meanwhile, 'If It's a Light', an emotional slow-tempo number, urges the listener to in effect never let hope be extinguished. Staples' is a veteran of the civil rights movement and one of Martin Luther King's favourite singers, and she's not done singing his message yet as she proves on 'Action', where she sings 'who's going to do it if I don't?'
The movement may be stumbling today in this election year of uncertainty, but Staples is still urging America forward through her freedom songs. Staples ends the story with a composition from M. Ward called 'MLK Song' that re-works one of Dr King's sermons from 1968. It's a fitting end to the album, and, if it does prove to be Staples' last song, a fitting tribute to her legacy. As she sings, 'in the march for peace, tell them I played the drum, when I have to meet my day'.
Livin' On A High Note is another stunning album from Mavis Staples in her renaissance. M. Ward has brought the sounds from her collaboration with Jeff Tweedy, but by bringing in newer artists has given Staples another fresh lease of life. By choosing to use her long-time band members on the album he has recreated the familiarity and warmth they create on stage together. She may be 77 this year, but Mavis Staples show's no sign of slowing down at all. Her voice remains as beautiful and infectious as it was fifty years ago. Sure, it's a little deeper now and her range might be slightly diminished, but she still sounds amazing and it's a gift that she's still with us, still performing, and still creating such beautiful music. Livin' On A High Note is a civil rights album full of positivity for our times from someone who was a part of it the movement the first time around.
You can purchase the album on iTunes or Amazon, and listen on Spotify below.